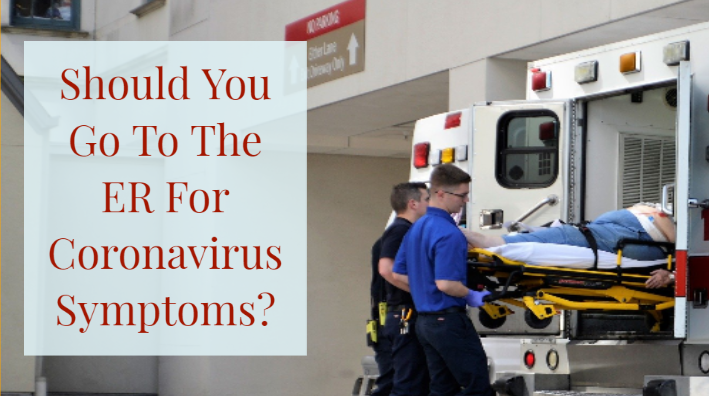 Recent outbreaks of coronavirus have raised concerns for many people around the world. Should you go to an emergency room in Carmel if you suspect you've been exposed to coronavirus? Here's what to do if you think you've been infected.
Determine If You Have Coronavirus Symptoms
The symptoms of coronavirus can mimic those of the common cold, flu, and pneumonia. Patients with coronavirus have reported symptoms such as coughing, fever, difficulty breathing, and chills. Some have reported experiencing nausea, diarrhea, and vomiting. According to the Center for Disease Control guidelines, one main criterion for exposure to coronavirus is any travel within the last few weeks to where the most severe outbreaks are. These locations include China, Japan, Italy, South Korea, or Iran. Regardless of whether you think you have coronavirus or not, any of these symptoms would be a good reason to seek out medical care. You may not need to pay a visit to the ER, but a trip to urgent care for a checkup couldn't hurt.
Call Your Doctor First
If you think you've been infected by coronavirus, the best thing you can do is stay home and make a phone call to your doctor. Again, the symptoms are similar to that of the common cold, which is still a valid reason to go in for a checkup. Let your doctor know if you have done any traveling or had any recent contact with someone diagnosed with coronavirus. If the doctor suspects you have symptoms related to the virus, they can arrange special transportation to the emergency room in Carmel so you don't potentially expose the virus to others.
When to Visit the ER
You should go to an emergency room in Carmel only if you've traveled to any of the listed countries recently and have a high fever, difficulty breathing, or shortness of breath. If you feel your symptoms are severe enough to warrant a trip to the emergency room in Carmel, alert the staff by phone beforehand and wear a face mask before you enter to avoid infecting others. If you feel you can manage without going to any emergency room centers, stay home and use over the counter cold and flu medicines.
Emergency room care should be reserved for life or death situations and are not equipped to handle a mass number of people who may only have a cold or the flu. Most emergency rooms only have an average of seven treatment rooms, which can lead to a greater risk of exposure with a large number of patients waiting to be seen. Going to an urgent care center may not be an ideal option as testing for the virus is being done typically at hospitals.
It can be difficult to tell whether you have coronavirus or just the common cold, but the best thing you can do is stay home to prevent any spreading and seek medical advice over the phone. Stay away from the general public and disinfect your home from top to bottom. Drink plenty of fluids and get some rest. Chances are you'll be just fine, but got to the emergency room if you feel your symptoms are severe.