COVID-19 Stay-At-Home Orders Result in Rise of Household Accidents
Did you know that during the holidays, emergency rooms and urgent care centers see a rise in patients? Why? People are home all day with their families. Household accidents are bound to happen. This hold true for stay-at-home orders during COVID-19.
While we encourage everyone to stay at home, if you're sick or hurt, don't delay seeing a doctor. At Riverview Health ER & Urgent Care—Fishers, our patients receive top-notch quality medical care by emergency trained physicians and staff. Every patient is examined by an ER trained physician regardless if they are an urgent care patient or an emergency room patient.
The 4 most common homebound accidents Riverview Health ER & Urgent Care—Fishers is seeing right now during the COVID-19 outbreak are: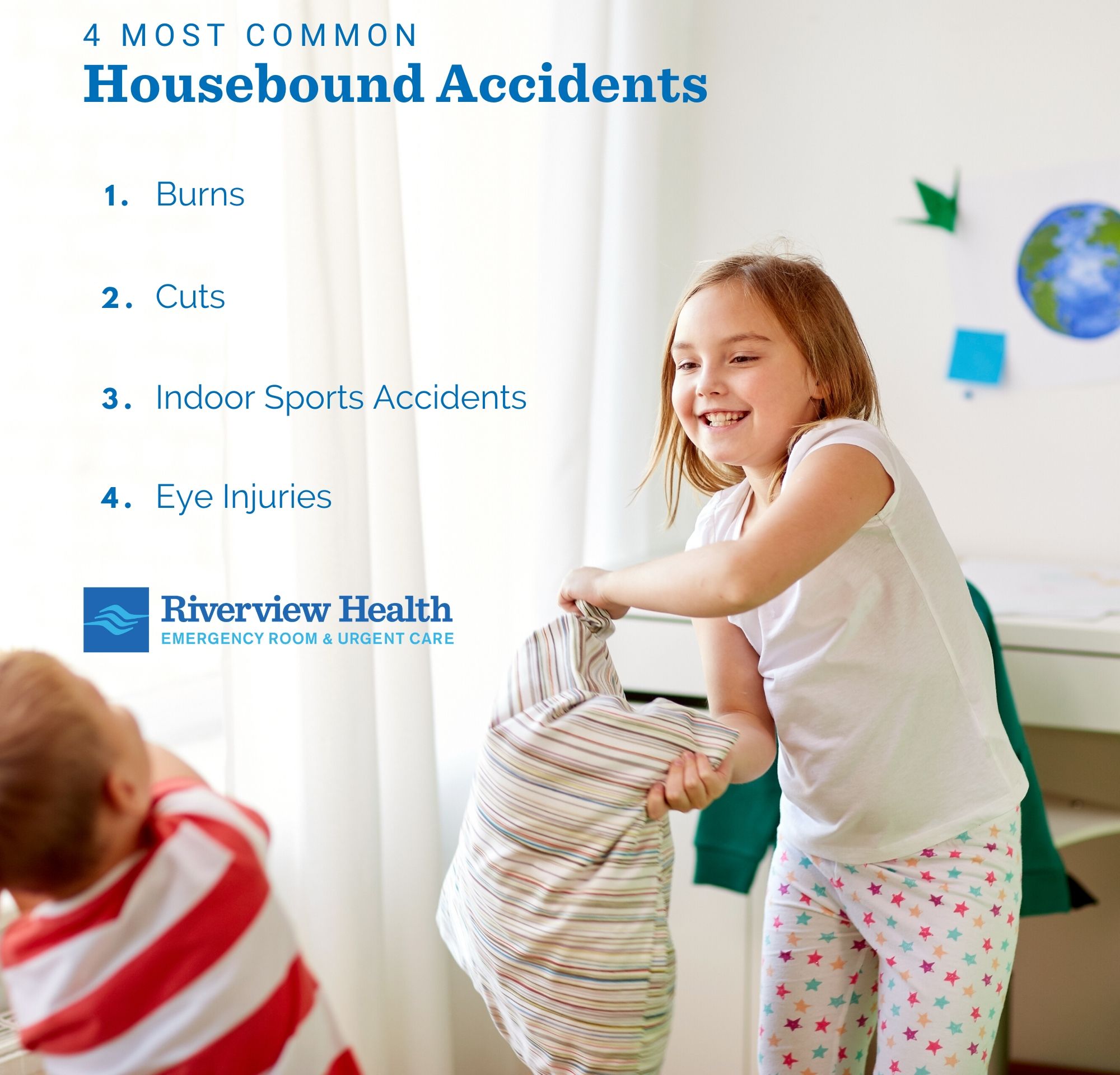 Burns – Most families are cooking more meals a day now that we have been advised to stay home, which means more opportunities for burns and lacerations. Burns can be extremely dangerous if they make their way past the outer layer of skin. Second- and third-degree burns require immediate attention, as there could be severe tissue damage if you're not careful. If you're unsure how severe a burn is, it's important to seek medical treatment. But waiting for three hours in an ER isn't going to help you – Riverview ER & Urgent Care in Fishers has no wait times and will see you fast.
Lacerations – Five-year-old "Brian" and nine-year-old "Sarah Kate" were bored and thought they would try their hand at flying from the sofa to the chair. "Sarah Kate" made the jump. "Brian" did not. "Brian's" arm went right through the coffee table. After a few stitches, he was back home with a stern warning from his mom to leave the flying to airplanes and birds.
Sports Accidents – Any sports enthusiast will probably have at least one story to tell about visits to emergency centers. Now, add total boredom and you have a recipe for disaster. "Carson" came in a week ago after skateboarding inside his house. "Carson's" wrist and the wall met with not good results. Thankfully, X-rays at our facility showed just a small sprain but a very bruised ego. Even though "Carson" is a father of three, we advised him to make sure that next time he is wearing all the proper protective gear for skateboarding.
Eye Injuries– The iconic "you'll shoot your eye out" phrase doesn't just apply to kids who want Airsoft guns for Christmas. Bored kiddos equal super creative kiddos. 13-year-old "Josh" and nine-year-old "Michael" were fencing. Instead of sabers, they were using broomstick handles. No points were given after "Michael's" broomstick handle made contact with "Josh's" eye socket. There's nothing worse than walking into an urgent care clinic because you poked yourself in the eye with a creative broomstick saber.
While some of these accidents are kind of funny, there is nothing funny about sitting in a packed emergency room during a pandemic.
At Riverview Health ER & Urgent Care in Fishers, our patients are treated to exceptional customer service. We have almost no wait times. In fact, the majority of urgent care patients are back in their cars and on their way within 45 minutes.
And, while we are a combination emergency room and urgent care center, over 80% of our patients are treated and billed at the urgent care level. Our foundation is built on fair and honest billing. Patients only pay for the necessary level of care they receive.
We recognize that you may be fearful of vising us during the COVID-19 pandemic. Rest assured, the safety of our patients, their families and our staff is our number one priority. Our team is experienced, trained and well equipped to provide safe and reliable care during the developing COVID-19 outbreak. Our dedicated team of healthcare professionals is taking all the necessary precautions to ensure the safety of our patients and staff.
Following the most rigorous CDC/HD sanitation guidelines for cleaning times and types of cleaning materials used.
Continuous disinfection wipe downs of all high touch areas like the registration area, patient chairs, equipment, etc.
Rapid identification of patients exhibiting any cold or flu symptoms and requiring them to wear a protective mask.
Requiring all personnel with any cold or flu symptoms to stay home.
Advising all patients showing symptoms of COVID-19 to please call ahead before visiting us, or any other facility, and tell them that you have or may have COVID-19. That way, we can take the necessary steps to prepare for your arrival
The urgent care at Riverview Health ER & Urgent Care in Fishers is open from 7 a.m. to 10 p.m., and, as always, the emergency room is open 24 hours a day, every day. Patients are welcome (though not required) to pre-register your visit at home.
We hope you or your family don't need us, but if you ever do, we are here waiting to serve you.
Visit eruc.riverview.org for more information or simply call us at 317-648-5829. We are located at 9690 E. 116th St., Fishers, IN 46037.
And remember, it's best to leave the flying to airplanes and superman. Dads who ride skateboards inside the house should always wear protective gear.