You, like many of our patients, may have questions about our unique combined ER and urgent care model. You might wonder about when the right time is to come see us.
The simple answer is: anytime you need us. Our urgent care is open daily from 7 a.m. to 10 p.m. and our Emergency Room is open 24 hours a day. 
We are changing the way healthcare is delivered. Before we came to Fishers, you had to make the decision yourself and choose between urgent care or visiting an Emergency Room in your time of need – a stressful decision when you're hurting and need help.
And, if you chose an emergency room for care and then discover that you could have been treated in an urgent care – that costs you a lot of time and money.
Don't worry, you aren't alone. In a study published in Health Affairs, they found that between 44 to 65 percent of all patients who were treated in the ER could have been treated in an urgent care.
Thankfully, you don't have to choose anymore. Riverview Health Emergency Room & Urgent Care in Fishers eliminates that need to choose. We are a full-service ER and urgent care under one roof.
Furthermore, to ensure transparent billing practices, and before treatment even begins, you are informed of the type of care you need. You are clearly told if you will be treated as an ER or as an urgent care patient.
Our patients receive top-notch quality medical care by emergency trained physicians and staff. Every patient is examined by an ER-licensed provider regardless of the level of care they need.
Our team is experienced, trained and well equipped to provide safe and reliable care. We regularly treat:
Chest Pain | Abdominal Pain – This can be serious or just indigestion, but in either case, we can take care of you and will only bill for the level of care needed. If you think you may be having a heart attack, call 911.
Flu | Cold No one has time to feel bad or be stuck in bed. Though you'll never know exactly when the flu or a cold will strike, the Riverview Health Emergency Room & Urgent Care team of physicians and nurses are always equipped to diagnose and provide a treatment plan for your flu, cold or allergies.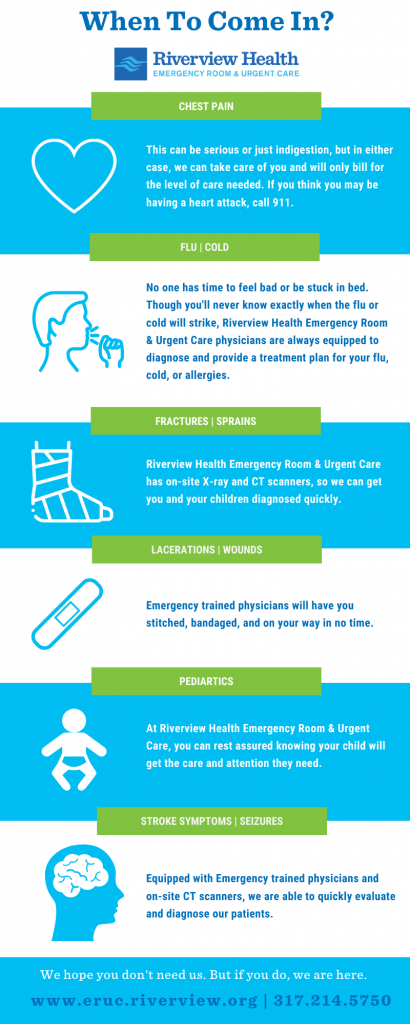 Additional conditions and symptoms treated at Riverview Health Emergency Room & Urgent Care in Fishers:
Accidental poisoning
Allergies
Appendicitis
Asthma and breathing problems
Back pain
Blood clots
Burns, major and minor
Chemical exposure
Dehydration
Dizziness
Eye injuries
Foreign body removal
Headaches or head injuries
High fever
Insect bites
Insect stings
Insect allergic reactions
Pink eye
Pneumonia
Rash
Vomiting
We are convenient and accessible. 365 days a year, we provide Hamilton County pediatric and adult patients with easy access to quality care. We can treat everything a hospital emergency room treats. From allergies to appendicitis to broken bones but, if we discover your fractured bone is just a sprained ankle, you are only charged for the care you need.
Our foundation is built on fair and honest billing. Over 70% of our patients are treated and billed at the urgent care level, so emergencies treated here are REALLY emergencies. Before treatment even begins, patients are told the type of care needed and whether they will be treated as an ER or as an urgent care patient.
We excel in exceptional customer service. Our patients really like that we are fast, too. Our average door to car time is under 45 minutes! Our facility is clean, warm and welcoming. We even have an area designed just for children.
Riverview Health Emergency Room & Urgent Care in Fishers is the most progressive healthcare model in the US, and it is right here in Fishers, Indiana. We hope you or your family don't need us, but if you ever do, we are here waiting to serve you.
Visit eruc.riverview.org for more information or simply call us at 317-648-5829. We are located at 9690 E. 116th St., Fishers, IN 46037.