Riverview Health ER & Urgent Care is changing the way healthcare is delivered. Why? Because you deserve exceptional service and care.
We practice a straightforward promise – to deliver emergency and urgent care services while providing extraordinary customer experience and only billing you for the care you need.
We are the only combined ER and Urgent Care under one roof in Hamilton county.  What does that mean for you? You don't have to decide if you should go to the emergency room or to an urgent care for sickness or injury. Leave the diagnosing to the ER trained physicians on our staff.
We are steadfast in our commitment to transparent and fair billing. The ER physicians who created our model knew that there were millions of dollars a year wasted by patients going to the ER for symptoms that could have been treated at an urgent care. Do you know that sprained ankle? That concerning pain? If you go to a traditional or freestanding ER – no matter what the outcome is, you will still be responsible for an emergency room bill. Not at Riverview Health ER & Urgent Care in Fishers. Here, you only pay for the care you need.
We are efficient. The model we use optimizes the patient journey from proven procedures to on-site imaging and labs. Most of our urgent care patients are back in their cars and on their way within 45 minutes.
Every member of the Riverview Health ER & Urgent Care in Fishers works together to make your experience with us one you will never forget. Each of us is trained in servant leadership, and our primary objective is to serve you – our patient. Simply put, our team is changing the way medicine is delivered, with compassion, trust, and fairness.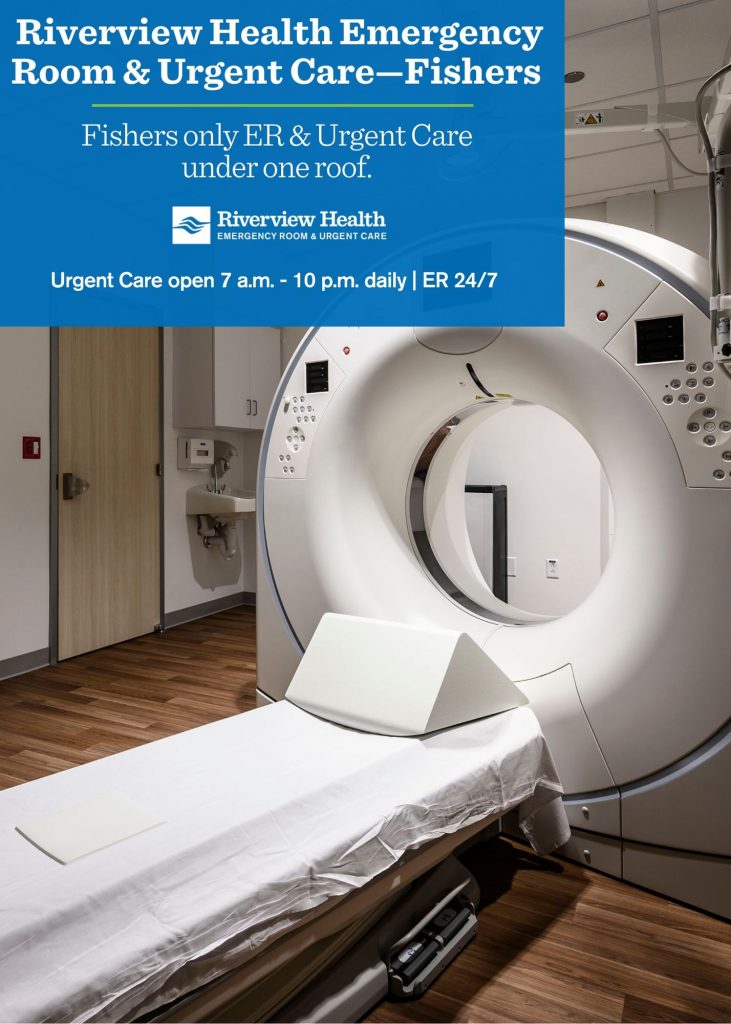 Just a few other ways we are changing the way healthcare is delivered in Fishers:
Every patient is examined by an ER trained physician every single visit regardless of the level of care they need
We have little to no wait times
We are convenient
We have onsite imaging and a lab
We are in-network with most major insurance plans and we accept Medicare and Medicaid
We are open 24 hours a day, every day
There will be no surprise bills
We offer you an incomparable level of care
We are on a relentless pursuit of extraordinary customer service
Every staff member is empowered with the patient-first mindset
We care about you, your family, and our Fishers community
The urgent care at Riverview Health ER & Urgent Care—Fishers is open from 7 a.m. to 10 p.m., and, as always, the emergency room is open 24 hours a day, every day. Patients are welcome (though not required) to pre-register your visit online.
We hope you or your family don't need us, but if you ever do, we are here waiting to serve you.
Visit ERUC.Riverview.org for more information or simply call us at 317-214-5750. We are located at 9690 E. 116th St., Fishers, IN 46037.